Dear Friend,
May flowers have sprung and Oregon is in full bloom. We hope you've had a chance to enjoy the amazing spring scenery of our beautiful state.
This month our Food Systems Program Director spoke at an American Planners Association conference about the power of farmers and ranchers impact as urban housing advocates.
New ADU rules are going into effect across the state. We break down how communities can implement the rules to ensure these flexible housing options are made available.
May is the anniversary of the federal Fair Housing Act. Richard Rothstein, author of The Color of Law spoke in Portland about the country's patterns of exclusionary housing practices and how they manifest today.
Finally, last minute news - we won a Court of Appeals Case! It's so new, there is literally no link for more reading yet. You've got to read to the bottom for details.

Thank you for your passion,
The 1000 Friends Team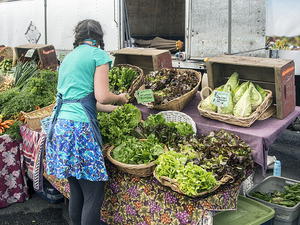 1000 Friends of Oregon's Food Systems Program is based on the recognition that one way to protect agricultural land is to help farmers and ranchers succeed economically. Once the connections are made, advocates for strong agricultural operations often become advocates for land preservation and sensible regional planning—including planning for compact, livable cities. Program Director Greg Holmes was recently invited to talk with planners and policy-makers from across North America about how helping farmers succeed economically not only protects farmland but helps create advocates for better urban planning.

Accessory Dwelling Units
Are Cities and Counties Doing Enough?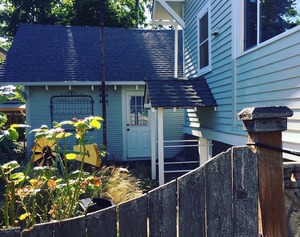 In the 2017 the Oregon Legislature passed SB 1051 with overwhelming bipartisan support. Among the provisions of this housing bill, was the stipulation that cities with populations over 2,500 and counties with populations over 15,000 must allow ADU's in single-family neighborhoods. How they do that is up to interpretation. We outline ways communities can work through rules to ensure more housing is added while addressing specific community needs.
Richard Rothstein in Portland
Revisiting restrictive zoning on the anniversary of the federal Fair Housing Act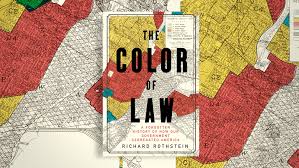 In The Color of Law, Richard Rothstein eloquently describes how housing programs begun under the New Deal created and perpetuated a "state-sponsored system of segregation," in which people of color were purposely excluded from neighborhoods across all American cities and suburbs. The resulting patterns of and economic exclusion and segregation are with us today, often continued through restrictive zoning rules such as exclusively single family zoning. The link is to a video of Mr. Rothstein's presentation in Portland in honor of the 50th anniversary of the federal Fair Housing Act.
JUST IN! 1000 Friends Wins at the Oregon Court of Appeals!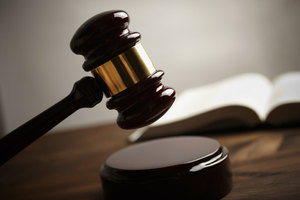 Today, the Oregon Court of Appeals handed down a decision that blocks a large-scale solar energy facility on high value farmland. For the past year and a half we've been active in a case that sparked national conversation about how we balance the protection of farmland and the production of solar energy. Last year we appealed a Jackson County decision to grant an exception to Goal 3 (the goal to protect agricultural lands) to allow an 80-acre solar facility on high-value farmland outside of the urban growth boundary. The decision was partly based on the argument that Goal 13 (energy conservation), mandates Counties to develop energy facilities. 1000 Friends disagreed with this interpretation, and so did the Land Use Board of Appeals (LUBA) who found in our favor and reversed the county's decision.

Fast forward to this current win - the developer appealed the LUBA decision to the Oregon Court of Appeals. 1000 Friends defended LUBA's decision, and the Court of Appeals ultimately upheld our win at LUBA. The Court held that:
There is no requirement in Statewide Goal 13 that counties develop or facilitate the development of energy facilities.

Energy development is a conditional use on farmland, it is treated differently than industrial development.

LUBA correctly reversed the County's decision because the reasons used to justify the solar development were not permitted reasons - ie Goal 13 does not allow or require a County to convert productive farmland for energy development.
1000 Friends supports sustainable clean energy development, including solar, in the appropriate locations.
As Oregon steps into a cleaner, greener energy economy, we need to have clarity for our farmers, ranchers, local governments, and solar developers so we can balance these two valuable industries, along with critical wildlife habitat, for statewide success. This Court of Appeals decision clarifies that, without additional justification, high-value, regionally-significant farmland is not the appropriate place for large scale solar development. We firmly believe there are very appropriate locations to develop solar energy in Oregon, and that many of these facilities are being constructed right now. 1000 Friends looks forward to working with the state and the energy community to continue to move to towards a sustainable, clean energy economy while maintaining our productive farms and habitats.
For the orignial LUBA decision, click here.
EVENTS & ANNOUNCEMENTS!!!



Coalition of Communities of Color Summer Soiree

Join our friends Coalition of Communities of Color for a happy hour soiree to celebrate their work addressing racial equity.

Tuesday, June 12 starting at 5:30pm in Southeast Portland.

Learn More
Voices of a People's History

OPAL Environmental Justice is hosting their annual event that celebrates diverse movement leaders by sharing their stories in their own words.

July 18, 5:30 - 8:30pm
in NE Portland.

Learn more