The classic saying "April showers bring May flowers" may have been relegated to the dust bin as our April delivered record breaking heat. As this is also the month that celebrates Earth Week and Day, it's no wonder climate change was on everyones lips.

We look at how farms can manage their soil treatment to help sequester carbon and aid in mitigating climate change.

Helping our farms and farmers keep Oregon lands protected, 1000 Friends is proud to be working on a new Cooperating Attorney's Program case in Yamhill County.

Following a Portland City Club Friday Forum discussion on the housing crisis, the City Club officially reversed their position on single-family neighborhoods low-density zoning.

Housing challenges include increased gentrification and displacement of communities of color, which is explored in this fantastic, two-part series: Gentrification Spotlight.

Finally, in national news, a group out of San Francisco is addressing the housing crisis by advocating for a new wave of housing development. They call themselves BARF aka Bay Area Renters Federation.

Thank you for your passion!
The 1000 Friends of Oregon Team

P.S. We're Hiring! Check out the details for our new Development Director.

Climate Smart Soils:
The important role farmland plays in fighting climate change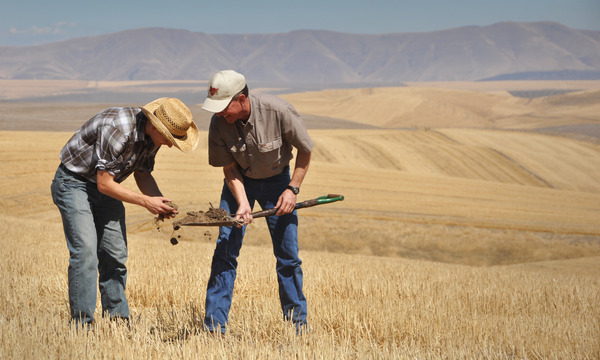 (Photo: NRCS Soil Conservationist Garrett Duyck (left) and David Brewer examine a soil sample at a farm in The Dalles.)
Climate-smart soils is a thing. Researchers from Cornell University have found that farm, ranch, and other agricultural practices have a substantial effect on the amount of carbon stored in soil. Not only that, but soil can provide a valuable carbon sink, sequestering as much as half to 80% of the carbon produced by fossil fuel combustion. How much can actually be achieved depends on farm practices worldwide, but local farms and forests clearly play a valuable role in mitigating climate change.
A Cooperating Attorney case
:
Working to preserve farmland in Yamhill County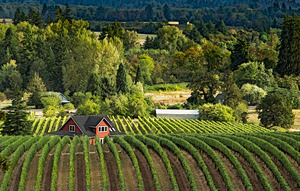 Thanks to the Friends of Yamhill County, we have been alerted to an allegedly illegal lot division of high-value farmland. With Measure 49, high value farm and forest soils can be divided up into three parcels with rules around how they are divided. Recently, Yamhill County granted partitions of two plots of land following the Measure 49 rubric. However, the county Board of Commissioners also recently approved lot line adjustments that our affiliates argue are illegal under the current law and compromise farming potential.
Continue reading...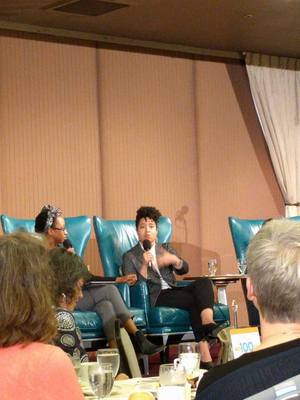 (Photo: Katrina Holland of Community Alliance of Tenants and Dr. Lisa Bates of PSU speak at the City Club of Portland's Friday Forum)
The City Club of Portland has long been held in esteem for the types of community leaders that regularly participate and engage through membership. The club has a committee on housing affordability that
recently released a draft report on the state of housing
and suggested club stances on various issues from lifting the ban on rent control to banning no-cause evictions. However, following the submission of this draft report the committee split by a 6-5 vote on the issue of single-family zoning. The majority argued that the city has "in theory" already has the zoning in place to adequately increase density and a minority report was created that argued for re-zoning. Fast forward two weeks when the weekly Friday Forum hosted a program titled "Affordable housing is within reach – but it won't be easy." An expert panel on housing and urban planning had an in depth discussion on the issues. With more information the general club membership had a vote, officially adopting the minority report position on housing, which argues in favor of re-zoning residential neighborhoods to include more "middle housing." 1000 Friends staff was in the room for the vote and very pleased to see an estimated two-thirds of the membership voting for the minority report. This is yet another example of community members willing to make changes that will help us all tackle the housing issues we are encountering. Good job City Club of Portland!
Gentrification Spotlight:
How Portland is pushing out its Black residents (
Part 1
&
Part 2
)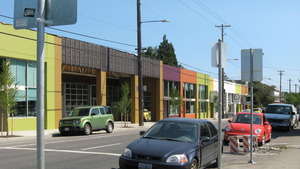 We've talked about Oregon's

racially exclusionary founding in the past

.

This two-part series dives into the current challenges of many of Portland's people of color as they navigate gentrification and displacement. This includes finding affordable housing, staying connected to community and cultural roots, and navigating change when support systems are no longer there. The issue is not just that we have a housing crisis now; it is also deeply rooted in historical links to racist practices which reverberate in the community to this day. However, there is a turning point as Black community members have become more deeply involved in the changing landscape of Portland. They are organizing, advocating, and "investing in the visions of the Black community." Read this two-part series, which includes perspectives from PSU Professor and 1000 Friends board member Dr. Lisa Bates, the Community Alliance of Tenants, Charles McGee of the Black Parent Initiative, and a personal account of these issues from Portland native Marih Alyn-Claire. Part two highlights several initiatives that 1000 Friends is so proud to be a part of, including Anti-Displacement PDX and the fight to repeal the ban on inclusionary zoning.
BARF
:
The growing voice for housing develpment in SF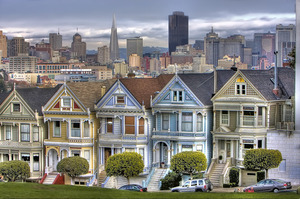 Housing affordability is shaping communities up and down the west coast, from San Francisco, Seattle, and Portland to Ashland, Eugene and Bend. Every community has its own response. Most advocates agree that solving the housing crisis requires a combination of building more housing and building more dedicated affordable housing. In the Bay Area, a response to the housing shortage is the Bay Area Ranters Federation (BARF). BARF advocates for increasing housing of all kinds, everywhere, as soon as possible. Oregon has different growth pressures and different values than California, but we would be wise to craft strategies that increase housing supply inside our most desirable neighborhoods before exclusionary zoning drives people to a more libertarian approach to growth (aka suburban sprawl).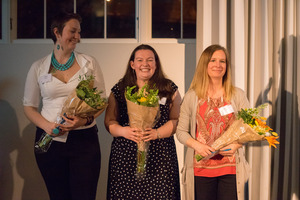 Really want to THANK our wonderful volunteers!

So much of our work could not be done without the dedication and support from community members who roll up their sleeves and volunteer their time and talents to 1000 Friends of Oregon. Please help us in recognizing and thanking this great group of people!

In the photo (and regularly at the 1000 Friends office): Dani Schulte, Jenni Denekas, and April Mead.
Also in office: Ben Ayer

March Gala Volunteers: Caitlin Halla, Gordon Levitt, Jocelyn Orr, Kevin Pozzi, Liv Brumfield, Malia Losordo, Michelle Wiley, Nick John, Paul Comery

CAP Attorneys:
John Bagg, Lauren Goodmiller, Ian Simpson, David Noren
Thank you all, for making our work possible!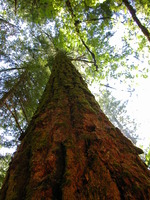 Join 1000 Friends of Oregon's passionate team of advocates! We have one new opportunity for a Development Director to help our organization continue growing!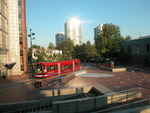 "Big Data and Big Cities"
This open to the public talk with Harvard Economist Ed Glaeser will explore how data is used to improve city life. May 12, 5:30-7pm
Learn More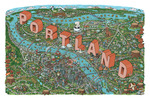 Chime In! Submit testimony on the Portland Comp Plan
Live in PDX? Want to have your voice heard on the Comprehensive Plan? Click here and share your thoughts on the re-zoning of various areas around Portland. Tell them not to downzone high-opportunity neighborhoods, blocking accessibility and creating more exclusionary patterns.